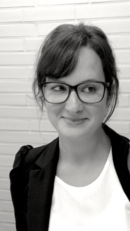 Dr. Veronika Ohliger
Chair of Political Systems and European Integration
LMU Munich
Veronika Ohliger is a research fellow at the Chair of Political Systems and European Integration of the Geschwister Scholl Institute of Political Science. She is a member of the Schumpeter research group "What do parliaments actually do?" led by Dr. Michael Koß.
Between 2009 and 2014 Veronika passed her Master's degree in Political Science and her Bachelor's degree in Political Science in combination with Law as a minor subject at the University of Munich.
Her Bachelor's thesis was on the topic: "Representation of interests of local authorities in the European system of multi-level governance". In her Master's thesis she analyzed democratic-theoretical implications of state surveillance practices in the 21st century.
Veronika completed internships in the fields of political communication and public relations, in the Landtag of Bavaria and in the European Office of Bavarian local authorities in Brussels. In spring 2016 Veronika stayed as Visiting Scholar at Columbia´s European Institute in New York City. In May 2017 she was a guest lecturer at the University of Amsterdam, funded by the Erasmus+ teaching staff mobility program. Her research focus is on parliamentary institutions on the transnational level – with special focus on the Parliamentary Assembly of the Council of Europe and the European Parliament.